Some places are difficult to feel affection for, despite me desperately wanting to fall in love. Chipperfield Kantine is one such place.
Maren Thimm run three restaurant and cafés in Berlin: Chipperdale Kantine, Lokal and Buchholz. They serve rustic food with mediterranean influences and lots of (metaforical) heart.
Lokal and Buchholz are located in light spaces in two old houses. Kantine reside in a new building, designed by Chipperfield Architects – this is literally the cantine for the architecture studio, but the restaurant is also open to the public.
The Kantine building is a two story concrete construction. The upper floor is all seating, fitted with five communal tables with one of their short sides towards a wall and the other short side towards the stair to the ground floor. When coming up the narrow stair, the room opens up beautifully and on the landing it is easy to see which tables have space. A few easy steps along the stair railing takes you to your table.
During summers the outdoor seating has a gorgeous leafy ceiling from vines and trees.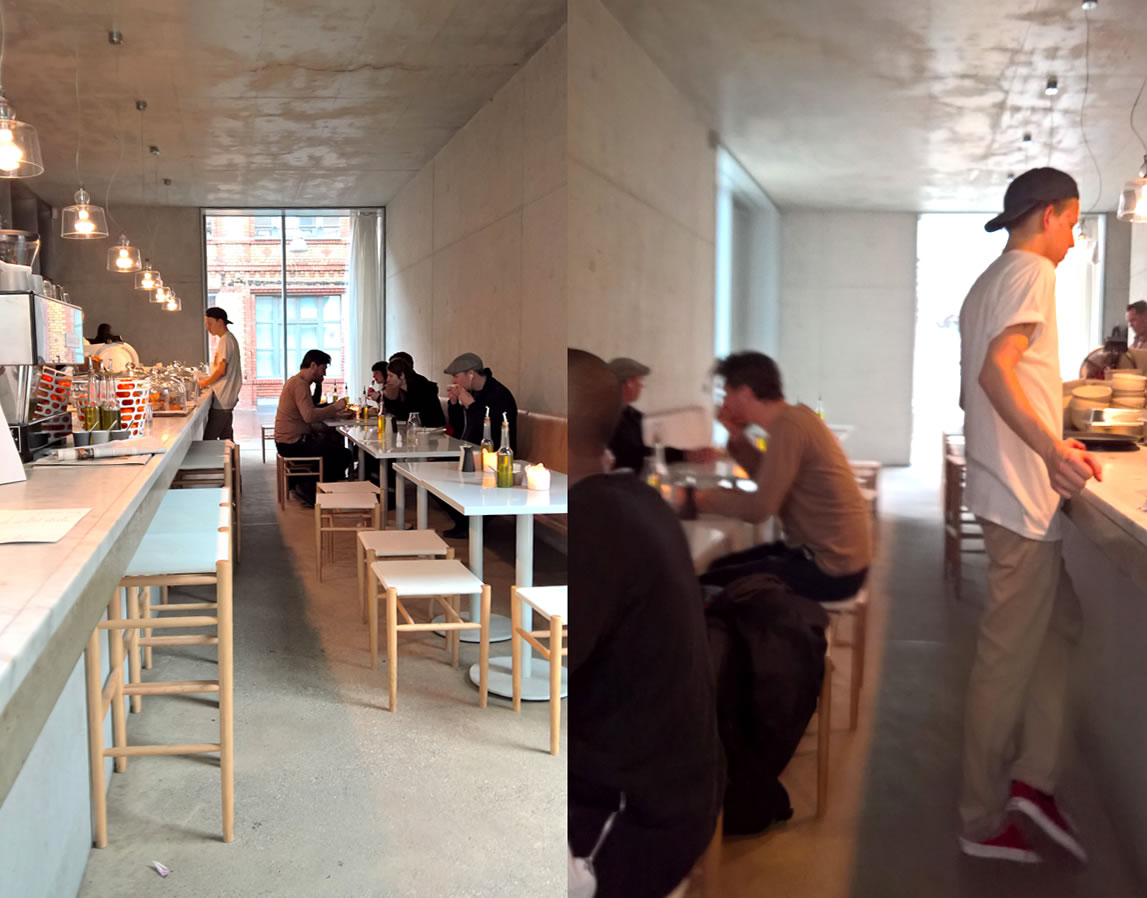 The problem with the Kantine is the layout of the ground floor. A bar run the length of the space, only terminating to create access to the stair to the upper floor. Along the opposite wall runs a sofa with small tables and chairs. The space between the bar and the chairs is about a meter, perhaps slightly less. It is a pleasant space – if one is almost alone in it. However, the restaurant is hugely popular and thus rarely empty.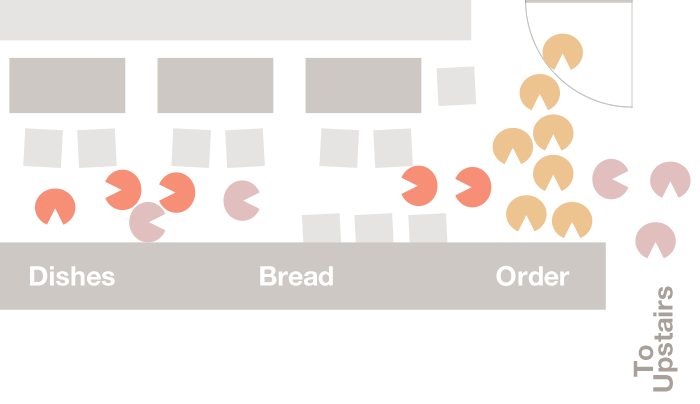 I enter the space through the main door, which opens inwards. Straight ahead, a queue of about eight people can form before the queue starts blocking the door. The queue lead me to the teller where I order my food. Once I have paid, I am asked to fetch bread and my water glass from further in along the bar – the food is delivered to me once I am seated. This means I pass some persons sitting on the chairs along the small tables. Sometimes there are even persons sitting to eat at the bar, which I also need to pass by to get to my water glass. When I have my glass and bread in hand, I again pass by the persons seated at the tables and/or at the bar. After my meal I am asked to hand my dishes to the dish washing area, which is located at the far end of the downstairs bar. Thus, I need to pass by the seated persons again. Also, the toilets are located next to the dish washing station. So in total there are at least two, sometimes three times that each guest need to walk along the bar – while other persons walk in the opposite direction along the bar.
The food is excellent, the styling of the place is beautiful. But the layout is very inefficient. And that is sad because I want to love the Kantine.